Hundreds of students have gathered outside Helsinki's cathedral to protest
Olli-Pekka Paasivirta ?? (@OPPaasivirta)

So much people in Helsinki! #FridaysForFuture #ilmastolakko #climatestrike pic.twitter.com/FEvUSK0okO
Meanwhile in Oulu, close to the Arctic Circle, a similar but smaller protest is taking place.
Kevin McGwin (@kevin_mcgwin)

#FridaysForFuture comes to the (sub) #Arctic. In #Oulu ?? pic.twitter.com/gBvtYaxbN8
Italy has 235 school strikes planned, more than any other country. Images are beginning to come in of events there.
FerraraItalia.it (@FerraraItaliaIt)

Piazzetta Municipale di #Ferrara#FridaysForFuture #GlobalClimateStrike pic.twitter.com/kjkhXBFiEO
Milena Siderova (@m_siderova)

#FridaysForFutureTutti insieme per le strade di #Bologna #NoPlanetB #ClimateEmergency pic.twitter.com/X6Kmg1vjpr
Vimbombo (@vimbombo)

#climatemarch #climatestrike #climateaction #fridaysforfuture #milan #milano #italy pic.twitter.com/mFJXPOHvWK
More pictures are coming in from the strikes in Hong Kong.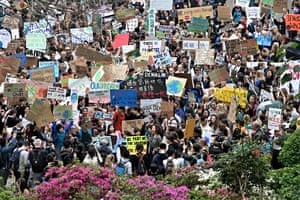 Students take part in a protest against climate change in Hong Kong. Photograph: Anthony Wallace/AFP/Getty Images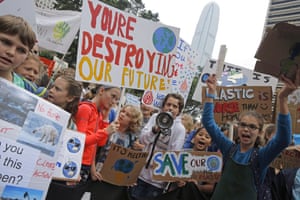 School strike protest in Hong Kong. Photograph: Kin Cheung/AP
Young readers across the UK have been getting in touch to tell us why they're taking part in the strikes today.
Michelle Huang, 17, from Altrincham, will be travelling to Manchester: "I think it is important that the younger generations like myself come together to speak out on environmental issues – especially those that aren't seen as important by many governments. It's also a chance to make a statement against those who do not believe climate change is happening. I definitely think the movement will raise more awareness."
In Hertfordshire, 18-year-old Carrie Sear feels the climate strike movement is necessary and will be travelling to London to protest in Parliament Square: "I believe there is power in large groups of people; there always has been and there always will be. The individual is not doing anything right now because they do not understand the implications of their actions. More significantly, the government is not doing anything right now because it is scared of upsetting the larger culprits: companies that mass produce, that emit masses of methane and C02, that let pesticides, dye and oil to enter into rivers, and that use tonnes of plastic waste every minute.
"I think that children are doing the work that adults feel they can seperate themselves from because they have short term commitments to excuse them from acting on long term issues. I aim to show them that they should stop being afraid of these large companies and start being afraid of us. Then change will start to happen."
Daisy Cooper, 17, from Guisborough, will be at her local town hall because she feels that not enough is being done: "I'm studying for my A-levels at the moment but it seems pointless because there'll be no future if action isn't taken now. I'll be able to vote when the next election rolls around – but younger ages won't be and it's not fair on them.
"I might be from a small town but despite that, it's so important to be visible and get our voices out there, being heard locally and nationally. I feel as if my future isn't cared about by those in power, who seem to only care about the here and now. We want a nice future – and this won't happen unless those in power listen to us, so striking is necessary because so many young people can't vote yet."
Wherever you are in the world, if you'd like to share your story, please get in touch here.
The American writer Rebecca Solnit has praised the school strikers, thanking them for taking action and urging them to continue.
They will tell you the rules are that those we see in the news and the parliaments and boardrooms hold all the power and you must be nice to them and perhaps they will give you crumbs, or the time of day, or just a door slammed in your face. They will tell you that things can only change in tiny increments by predictable means. They're wrong.
Thank you, climate strikers. Your action matters and your power will be felt | Rebecca Solnit
Map showing the locations of school climate strikes. Photograph: fridaysforfuture.org
The Guardian's opinion section is being partially guest edited by some of the leaders of the school strike movement today. As part of this, they've written a piece outlining the reasons they are taking action.
These strikes are happening today – from Washington DC to Moscow, Tromsø to Invercargill, Beirut to Jerusalem, and Shanghai to Mumbai – because politicians have failed us. We've seen years of negotiations, pathetic deals on climate change, fossil fuel companies being given free rein to carve open our lands, drill beneath our soils and burn away our futures for their profit. We've seen fracking, deep sea drilling and coalmining continue. Politicians have known the truth about climate change and they've willingly handed over our future to profiteers whose search for quick cash threatens our very existence.
This movement had to happen, we didn't have a choice.
Greta Thunberg (@GretaThunberg)

School strike week 30.#climatestrike #fridaysforfuture #schoolstrike4climate pic.twitter.com/HLsY1ZRgyT
It was revealed yesterday that she is one of 301 nominees for the Nobel peace prize this year. She spoke to my colleague Jonathan Watts earlier this week about her motivation and how she inadvertently started a global movement.
"I painted the sign on a piece of wood and, for the flyers, wrote down some facts I thought everyone should know. And then I took my bike to the parliament and just sat there," she recalls. "The first day, I sat alone from about 8.30am to 3pm – the regular schoolday. And then on the second day, people started joining me. After that, there were people there all the time."